In his weekly column, amateur futurist (read: paranoid alarmist with access to Wikipedia) Ryan Broderick will be dissecting the news of the week in an effort to prove that the world is probably going to end very soon and we're all doomed.
A long, long time ago human beings discovered that if you shake a piece of wood or metal just right, you can get other human beings to dance. This skill quickly became fairly valuable because people are pretty miserable most of the time and dancing seems to help this. Over time though, people realized that it takes a bit of talent to figure out the right way to vibrate pieces of wood and decided they just didn't have the time to get the hang of it. They figured it would be much easier to pay the people who knew how to shake stuff to shake stuff for them. And that was all well and good because the people who couldn't vibrate pieces of wood could give some money to the people who did know how to vibrate wood, and everybody loves money. What's even better: everybody got to dance.
Even this guy gets to dance.
Things were, for the most part, going smoothly, with lots of people dancing until the beginning of the 18th century, when people started to wonder if claiming ownership over molecules shaking in the air in a particular pattern was a good idea.
In 1709 a bill was passed in England called The Statue of Anne, it's full title is An Act for the Encouragement of Learning, by vesting the Copies of Printed Books in the Authors or purchasers of such Copies, during the Times therein mentioned. If I'm not mistaken that's also the title of a Fall Out Boy song. It's largely considered the first piece of anti-piracy legislation in the world. In the US, we didn't consider music worth copyrighting until around 1831—most likely because all of our music sounded like Celtic folk punk—when we passed The Copyright Act of well, 1831.
And ever since then there's been a back and forth over what copyright means, who owns what, and it becomes even more confusing when you factor in the ways music can be owned, like mechanical rights, performance rights, publishing rights, or synchronization rights. All of which are just different ways of saying "you can't use our song that way unless you pay us this way."
And a lot of people claim that tight control of copyright leads to piracy,, which is only exacerbated by the fact that on the Internet, copyright infringement is easy as hell. It's almost hard not to violate copyright law online, I'm torrenting every episode of Buffy The Vampire Slayer and Bruce Springsteen's entire discography as I type this.
But what does this have to do with everyone dying in some kind of dystopian future?
Well, ownership of music is pretty hard to argue sometimes because it really is just claiming ownership of vibrations in the air. Even though, fun sidenote, James Franco recently sold some air for $10,000. And people say we're in a recession. Anyways, buying and selling the rights to bouncing molecules is tough to defend (about as tough as defending the value of green pieces of paper), but what's even harder to argue is genetic copyright. And of course, it's one more instance in a long line of people claiming ownership of things that they really have no ownership of. But this time, it's going to affect the way we live tremendously.
So you might say, "who cares about genetic copyright, I'm already alive, I own the copyrights to my genes. Plus, Jude Law was terrible in that movie." Well my friend, Jude Law's charming ability to completely phone it in and do his weird whisper voice aside, you might be full of somebody else's copyrighted genetic material.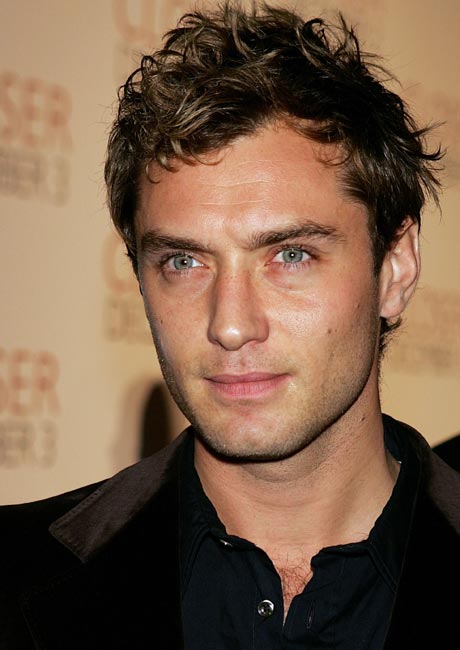 I hope the genetic code for that amazing faux hawk isn't copyrighted.
Myriad Genetics, the Metallica of genetic research facilities, has been working like mad to copyright genetic material. They were struck down in court, but have since filed for appeal. What they're trying to copyright are BRCA1 and BRCA2 genes, which are genes that play a large part in the development of breast cancer. Currently, researchers are working to make designer molecules. And earlier in the year, to completely blur the line between genetic engineering and artistic copyright law, scientist Craig Venter got a cease and desist letter from James Joyce's estate for genetically encoding lines from A Portrait Of The Artist As a Young Man onto the synthetic DNA he had created. Oh and also, back in 2000 a company called AviGenics attempted to patent a genetically engineered chicken or something.
We're not doomed yet, because we're still pretty far off from some kind of genetic nightmare (like the Baldwin brothers), but it's not as farfetched as it would seem. What we're almost certainly looking at is a copyright battle like the one we're seeing in the music industry (or film, publishing, TV, et al) right now. Even more upsetting, but entirely more probable, think about how similar all pop music is. Imagine if this description was also accurate of your genetic makeup:
Pop music has become increasingly standardized, its parts more or less interchangeable. All major rap singles, for instance, come with an instrumental and a vocal a cappella; the verses are mostly all the same length, about 16 bars; the choruses are all more of less the same length of time too. It is understood within the architecture of pop and hip-hop music these days that the song is waiting, begging even, to be mashed up.
And of course that type of corporatizing could lead to a future where grassroots genetics operations start trying to compete with major lab(el)s with their own gene remixes and mashups. Oh wait, you don't have to imagine that frightening thing, it exists. You know when you hear a remix and you're kind of lukewarm on it because, while it's interesting, it doesn't work that well? Imagine if that disgusting dubstep remix of the Inspector Gadget theme song was alive! Imagine if you and your buddies got together and made a living, breathing mashup in your homebrewed lab.
Imagine if that song had a spine and a nervous system. It's hard to decide what's worse, oppressive genetic copyright laws leading to the ownership of the enzymes in my stomach that break down glucose or the idea of two dudes in Brooklyn making a sentient frog-bird — with nothing more than the emotional capabilities to sob at its own existence — just to see if they can.
Possible Future #1
I really want to be an optimistic guy, but it's pretty hard knowing human beings have an almost innate need to own things. I suppose if you look super, super far into the long term, you could envision some kind of personal genetics setup where people could literally Garageband their own genetic makeup, trying on different genders, eye colors, even disabilities, in some kind of strange existence as entertainment idea, which is also kind of scary but perhaps less scary than…
Possible Future #2
Alright, you know where this is headed? Lungs by Walmart, specialty stomachs by McDonalds that never feel full, a nervous system that craves Starbucks (I already have that one). Meanwhile, teenagers are hacking their bodies, altering skin pigments, eye colors, numbers of toes or fingers. You know how Anonymous largely consists of bored teenagers with access to homegrown technology that they can can use better than adults? Imagine the havoc a bunch of genetically engineered monsters could wreak if some 15 year-old got bored a grew a bunch of primates that shoot poison darts out of their fingers or something. Now, I'll be the first to admit, that sounds absolutely amazing and totally cool, but I'd probably change my tune when all the teenagers around me are blinking with three eyelids and 12 fingers as their pet Scorparanguturtle uses its orangutan strength and hard outer shell to burst through my neighborhood bank and stab me to death with its poisonous tail.
Previously on We're All Doomed: